Oooooh, Aaaaaaah

I love a good fireworks show.
The first time I remember seeing them was riding the ferris wheel at Coney Island, but Cincinnati's predecessor to the Island of Kings (you know, the amusement park where the Partridge Family played).
I must have been really little, maybe 4 or 5 years old. Who was I riding with? Uncle David? Uncle Dick? Dad? The legend, at least according to my mom, has it that I held my hands over my eyes most of the time, saying "they're really pretty."
Fireworks were the capper to our annual pilgrimage to Disneyland during the 8 years we spent in Southern California. Once a year, we'd all get in dad's company car (we had "the Pontiac" and "the company car") and drive to Anaheim. There'd be a dime on the dashboard and whoever saw the Matterhorn first would win it. Then we'd run around the park all day, begging for more E tickets. Pirates of the Caribbean and the Matterhorn were my favorite. And I loved the Peter Pan ride, sailing over the twinkling lights of the London skyline. Who knew I'd be here 35 years later. Who knew I'd never really grow up?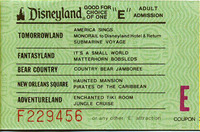 After the Electric Light Parade, we'd ooh and ah at the fireworks, and then meander out of the park, trying to talk our folks into getting us more souvenirs before we left Main Street.
The only time we didn't see fireworks was in 1970, when the park closed early because the Yippies had invaded. No shopping on Main Street that evening, as the sidewalks were lined with policeman and CHiPs (long before Erik Estrada donned the uniform).
When we moved back to Ohio (the summer before Space Mountain opened ... what a gyp), the best fireworks were the annual WEBN fireworks at Labor Day. It's now a huge event and is co-sponsored by Toyota I think (haven't been for years), but it really only began in 1977 and was a big drunken mess. I of course, was too young to drink back then .. or at least too much of a goody-goody to drink as a teenager. I made up for it all in spades when I got to college. By the time I was drinking, selling beer was banned), although that didn't stop us. From what I hear, it's still one of the best displays you can see.
I think the best fireworks I've seen, or at least the best time I had at a fireworks show, was the Centennial of the Statue of Liberty. I was on the Hudson River, in a boat sponsored by a group called The Islanders. Kevin and I had come up from New Orleans for Miss Liberty's big birthday and somehow were able to get tickets to the boat at the last minute. It was the most amazing night. Sailing down around Liberty Island, one of a million boats bobbing in the river. When the fireworks finally went off, it was like we were right under them.
That was 20 years ago tonight. Long before I'd even thought of moving to New York. Several years ago, Larry and I were talking about fireworks. I asked him what his favorite fireworks were and he said he'd been at the Statue of Liberty's Centennial on a boat. It was a boat rented out by the Islanders. Six years before we met each other, we were on the same little boat, watching fireworks, drinking beer with a bunch of homos we didn't know. Go on, talk about your destiny.
So to everybody watching fireworks tonight, enjoy and be careful. It's all fun and games until somebody gets a bottle rocket in the eye.
What are your favorite fireworks?