Edie Beale Comes to Derby
I'm wondering if taxidermy is like tattooing... you know, addictive. Like when you get one, you just keep thinking about your next one.
I spent the weekend in the country, up in Derbyshire in a cottage just outside of Ticknall. It was on (or maybe just near?) the Calke Abbey estate, which was amazing, if not a little disturbing.
Stuffed. Animals. Everywhere.
Not the plush ones you win at the carnival. Oh no. Taxidermy specimens. Owls. Puffins. Rabbits. Hawks. Hawks eating rabbits. Waterfowl. Fish. Waterfowl eating fish. Crows. Albino crows. There must have been hundreds, if not thousands of dead stuffed animals, posed together in glass cases.
The 300-year old house itself has not been restored at all since it was left to the National Trust in the 1980s, and it wasn't in the best of condition when the Harpurs donated it. Not only were these people packrats, but they packed the rats ... with sawdust and then stiched them up.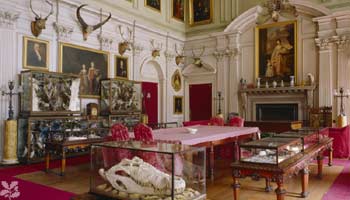 Fascinating. And the perfect place for a weekend murder mystery. On acid.
Our cottage, while not as big as the estate house, accommodated the 13 of us very nicely. It was a great getaway, and I reccommend Southwood House Farm to anyone. I don't know that I want to get used to seeing sheep out of my bedroom window first thing every morning , but for a few days it was be-ewe-tiful.
National Trust,
Calke Abbey,
taxidermy