Adventures in Page Layout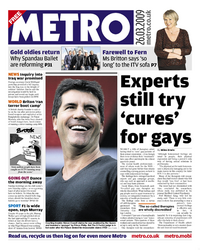 I'm not sure what the Metro (that bastion on journalistic integrity) is trying to say today ...
a) Is Simon Cowell gay and in need of a cure?
or
b) Is Simon Cowell the cure for homosexuality?
In what could be related news, the same paper reports that Britain is running out of cocks.
We did not use the Metro as a teaching resource today.