Abbalicious
Y'all remember Connie, eh? She's my friend the chanteuse who can booze.
Make sure to eyebrow pencil in June 22 on your calendar and come see Ms. Cat and a host(ess) of other drag divas dust off their dresses (and knowing some of them, drum up their drama) and sing their freshly minted interpretations of Abba classsics. And you can buy the CD too!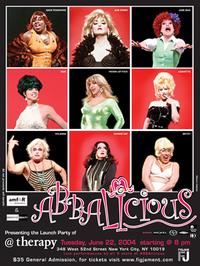 It's supposed to start at 8, but really ... have you ever known drag queens to go up on time? Going down, maybe they're a little more punctual. I'm not sayin' ...
Not too worry though, those girls are not the only show in town that night. The kids at WYSIWYG are putting up another reading, and rumor has it a certain gay uncle will regale you with a tale or two of gays days gone by. It's at 7:30pm, the same night. More news as it develops.
So overcome that time/space continuum and come play with everyone.