Getting Digits
Did you ever notice a random cute guy's fingers ... all thick and smooth like sausages ... and think, "mmm, I bet he has a nice dick."? And if even he didn't, it wouldn't matter because the fingers themselves would be enough to play with for a couple hours.
And why are they often more hot when there's a little gold band on the left hand?
Go outside, quick. God let the cute boys out today.
Speaking of sausages, I've booked my flights for next week's travelcade. I'm staying here on Monday night: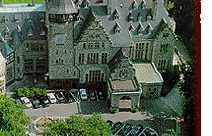 I saw the picture and thought, "Gee, I think I've stayed there before." Maybe on a trip years ago when I worked for a different bunch of freaks company. Or maybe it's just one of those deja vus.
Anyway, it's going to be a castle full of corporate hoo-has so I'm only staying one night. Get in, give a presentation, and then get out ... heading my hoo-ha downtown. It's time to find out just how close to das ghetto the office really is. Who knows, maybe I'll find myself a hot little Frankfurter sandwich.
Then it's back to London for a couple days. I know ... again!?!? But, just to make sure I don't get in a rut, I'm going to try a different hotel *and* I'm flying diffrerent carriers. Taking them out and these folks back. Now that I know the rules, maybe the flights will be more entertaining.