Halftime
We hit the half-way point for the CELTA course yesterday, and I feel like there's a light at the end of the tunnel. It's a much better midpoint than last Sunday's run, when I pretty much lost my will to live. Was the marathon only last Sunday? It's amazing how quickly the pain goes away and you start convincing yourself that wasn't so bad, I think I could do that again.
Maybe that's one of the reasons women keep having natural childbirth. Selective memory isn't such a bad thing, eh?
Last night, I was having drinks with a friend who did the same course about five years ago. I told her that I thought the worst was over and that the workload over the next couple weeks would be much more manageable. She just looked at me over her glass of white wine with an expression of, " bless … you just keep thinking that, you naive little fool." There was another person out last night who'd been through it and said "all I remember is that the month went by in a blur of sleep deprivation. My friends thought the authorities had finally caught up with me and taken me into custody."
By most accounts (mine and my tutors') I'm a squidge ahead of the standard required to successfully finish, but not coasting by any means. And I'm good with that. I'm not trying to "just pass", but I'm also stopping short of killing myself to be the "best in show." There really is a threshold of diminishing returns on how much you do for this course. I'm not sure that I know where that threshold is, and I'm probably on the wrong side of it, but not too far past the mark. And at the end of the day, a B+ is really okay.
Of course, if anyone gets overall higher marks than me, I'll have to kill them … but we'll push them off that bridge when we come to it.
April 27, 2007
Monochromatic is the New Black
My socks are the the exact same color as my shirt today. Brown. I just reached into the dark sock drawer (the socks are dark, the drawer notsomuch) and pulled out a random pair. Lo and behold, exact same color as my shirt.
The only reason I find this notable is that I didn't realize I owned a pair of brown socks. I thought they were all black and blue (much like Sunday's souvenir — a painless blood blister on the side of my toe).
I feel like I have an unplanned Garanimals outfit on.
PS: Don't you just love an office party where the most tanked person is the boss?
April 24, 2007
Tuesday 200 - #41
"You sure?" Roger asked, pushing the pack of Winston Lights toward me.
It'd been sixteen days and I was determined to make it work this time. I'd even gone so far as to promise that if I fell off the wagon, I'd go down to the old folks' home and trim everybody's toenails.
I patted my shoulder. "Nope, the patch is giving me all the nicotine I need. But don't let that stop you from blowing this way," I said, leaning in towards him and his girlfriend.
"But we just finished eating," Shelly squealed, twirling her freshly auburned curls around her bejeweled fingernail. "How can you not smoke after a meal? I'd just die." Shelly was an actress/model/receptionist with a penchant for "just dying" about most anything.
I almost told her that chewing on lime rinds after seven shots of Cuervo really didn't constitute a meal, but she'd already lit up and headed outside to the smoking area. Neither of us bothered to tell her to wipe the salt of her chin.
She never saw the Greyhound coming. It took out the whole front of the bar. Coroner said the driver had a stroke.
I don't miss her one bit.
:: :: ::
Morning Stiffie
Lord t'undering Jesus, how stiff are my legs this morning? The day after the day after is usually the worst for me, if memory serves ... which apparently it doesn't ... happy belated, CB.
Oh, and I seem to have latched on to one of those infamous post-marathon colds.
So if you see some short-haired, tall guy limping and coughing and muttering vowel sounds to himself (trying to learn phonology, I am), that's me.
April 23, 2007
Training Schmaining
Ouch. Ow ow ow ow ow owie ouch.
I know it's almost impossible to follow a marathon training schedule religiously, what with head colds and African holidays and the occasional scheduling hiccup. But one must do better than a long-ish run every other week and maybe a short one in between. I started out so well in January. Oh well.
Ouch.
That said, we don't need no stinking schedules! I finished. The first half was great. Ran with Julie, who was a pacer from Runners'World. We were on the 5 min jog / 1 min walk routine, averaging about 12-min miles. I even got to hold the pacer stick while she trotted off to the loo.
Then there was the second half. The wall came very early. I walked a lot, talked myself out of quitting several times. Bargained with myself to jog to the next set of balloons, or phone booth, or Flora sign. Twenty meters later I'd be dizzy and then slow down and and just enjoy the crowds. People were dropping like flies in the heat, and I wasn't about to get taken away by a medic (as cute as some of them were).
London certainly does support its runners, and it is one of the most fun neighborhood-party marathons (right up there with Chicago) that I've taken part in. I'd love to do it again properly. But not for a good long while.
Thanks to all who sent texts of encouragement, and thanks again for the support to Terrence Higgins Trust.
Now then. Where did I put that wheelchair?
April 21, 2007
Well!
Okay then. I think I'm all set for my little jog around London tomorrow. I went to the barber and am now hair-odynamic. Number is pinned on purple THT tank top/vest/singlet (choose your favorite word for said apparel). Fanny pack (listen to all the Brits giggling about that one) is full of energy gel, power bars, and analgesics. My Champion Chip (geddit?) is attached to my red shoes laces, so I'll have an official time. I'd forgotten that part in Edinburgh last year.
Now if I could just get to sleep.
Might be updating via Twitter from the course, or from the hospital. So keep your eye on the blue box to the right.
Feeling good about the run, but have had a weird cramp in my calf for the past couple days. I think it'll work itself out in the first couple miles, otherwise it's going to be a very long walk.
Thanks to everyone who donated to Terrence Higgins Trust. I'm really pleased to say I've met my fundraising goal, and I know more donations will come in next week. So thank you again ... y'all rock. If you didn't get my last mass email, I did sweeten the pot for donations. Not only do you support THT, but you get entered in a sweepstakes to win a signed (by me, not by all the authors) of Shaggy Blog Stories.
In other news, I'm now a quarter of the way through the TEFL course.
SO. MUCH. WORK.
It's exhausting, but a lot of fun. Still need to finish a lesson plan for Monday. I tried to today but was too jittery about the run.
It's a scripted role play where the kids have to complain. One instance is a waiter/customer and another is a train passenger and rude official. At first I thought, "Wow, so easy and so much fun!" It's acting class!
But the more I analyze it, the trickier it gets. The two scenes end with the exclamations "Well!" and "Oh!" Bad writing, yes, but there's a method to the madness.
Well has about, oh, a thousand meanings. It's an exclamation. It's an adverb. It's a hole in the ground where one gets water. And I've got to be ready to explain each of those, just in case they ask. And there's this one guy who is bound to challenge it. He's fantastic.
Plus, we've got "how am I supposed to know?" vs. "you're not supposed to smoke in here", "I get asthma" vs. "I have asthma", and "surely" vs. "certainly."
Surely I won't get an asthma attack in the heat tomorrow, as I don't normally have asthma. But how am I supposed to run such a long distance in what will certainly be warm temperatures? I'll need a deep well of stamina to do well, won't I?
Surely I've gone mad.
Well, I'll talk to you from the other side of the finish line.
Oh! And about tonight's Dr. Who ... (spoiler after the jump)

Human Daleks.
Ex. Cel. Lent.
(not to mention Russel T. Davies and his gay buddies giggling over making an episode including the creation of "pig slaves")
Speaking of pig slaves ... there's a couple of boys on Any Dream Will Do that I wouldn't mind ...
Oh stop. That's just not right.
April 19, 2007
Two Syllables, Sounds Like ...
Busy busy busy.
Things I've learned in the past few days:
Learning to teach ESL is just one big lesson in charades.

It's better to over prepare and have things go awry than to wing it.

Boys from the land of Borat don't sound anything like him.

Sleep is overrated, and I don't miss it as much as I thought I would.

People who stand next to the tube doors in the morning are just as rude and stupid as they were a year ago. It's good to know there are some constants in this ever-changing world.

There is a level of diminishing returns for additional preparation, but I haven't found the balance yet.

Having to teach the passive for one's first "real" teaching practice is a cruel joke from the grammar gods. Next one is vocabulary about criminals. That' more up my alley.

I need to work on anchoring myself. No news there.
April 17, 2007
Tuesday 200 - #40
"So I said, 'so long' and leaned for a kiss but he pulls back and goes, 'No, Shawn. Really. This is goodbye. Good luck with your life.' Then he just twirls down 44th Street and hails a cab."
"And he calls you the drama queen?" Richie says, picking an olive out of his dirty martini.
"Right? I was fishing for a comeback, but then a taxi pulls up like it was just waiting for him. In the fucking rain, no less." I rubbed the Nicorette patch on my shoulder, trying to make the craving go away. Breakups so were invented for Benson & Hedges. "Who can get a cab in a thunderstorm?"
"The devil. That's who," Richie says, patting my hand. "I warned you about dating the Latins, they're evil or nuts. Speaking of …" and he slides a bowl of cashews down the bar.
"But he was hot."
"Darling, they're all hot. They're from hell. Of course they're hot." Richie motions to the bartender. "Another round for Mary McDumped and me."
"So what's on for tonight?" Richie asks.
"Well … " I whispered. "I built a fake Manhunt profile and he's meeting 'Rico' at Splash."
"You didn't."
"You coming?"
"You bet."

:: :: ::
April 16, 2007
Shuffling to Class
Isn't it odd how iPod shuffle always knows? On the way to my big first day of class this morning I heard Kate Bush, Talking Heads, Peter Gabriel, and Haircut 100. Some of my favorite early 80s music, and very much a playlist from my college radio DJ days. I really did feel like I was going back to school.
What? You didn't know I was a DJ? Yup, I had the "Hi(gh) Bob" show, Thursday afternoons on WUSO, Springfield Ohio. "89.1 on your FM dial, ten watts of commercial-free power" coming from Wittenberg University.
"Hi Bob" was also a drinking game we played at the the campus pub. The rules were simple. You watched The Bob Newhart Show and every time someone said "Bob" you had to take a drink. If someone said "Hi, Bob" you had to finish your drink and get a new one.
There was one deadly episode where three of his friends came in and all gave their greetings at once for an ill-fated Thanksgiving dinner. Even if you weren't drinking, it's one of the all-time funniest episodes of program. Right up there with Mary Tyler Moore's Chuckles the Clown.
:: :: ::
Day One of the course seems good. It's going to be a slew of work, but I'm up for it. Being thrown into the deep end tomorrow, where we all have to teach for 20 minutes. I imagine it will fly by. Wednesday I have to do a 40-minute lesson on the differences between passive and active. You may stop your tittering now.
I'm really pleased that the expectations for the teacher trainees (TTs) are clearly spelled out. We know exactly what we'll be assessed on for each teaching practice. Have met one of the instructors (who looks all of 19) and will meet the second one tomorrow. My group of five TTs will have an upper-intermediate group for the first 2 weeks and then will switch to lower-intermediate. I'm still not sure what level of Engish that is (eg, what they'll understand and what they won't). I guess that's part of the fun of it, figuring out what "grade' of speech to use.
Not too different from having a conversation with a NYC taxi driver, I suppose.
April 15, 2007
Back to School
So I got one of those mass-mailed e-mail jokes from my FAVORITE cousin. Normally I scan them, have a chuckle ("tut, tut ... oh that Ohio vs. Kentucky humor") and go about my business.
Tonight though, I responded. A reply to all. I thought it funny. I'm hoping I didn't cross a line ...
Roses are red, carnations are crass
Back Hover's cousin or get fucked in the ass

:: :: ::

Apologies to the feint of heart, but if you know my cousin Chris ... well on behalf of the family I'm so sorry.

So here's the deal. I'm his cousin Bobby, the fun one, living in London. I'm running a marathon (yes, 26.2 miles) for charity next week and I've been remiss in my fundraising.

Please go here .... http://www.justgiving.com/bobzyeruncle ... and sponsor me if you can. The smallest input is welcome (just ask Tina).

La la la. Oh, by the way, Tina's his wife and the mother of his 3 lovely children. Well, 2 lovely children and Britney (did ever you get your car stereo, my love?).
Aren't family in-jokes fun (and appropriate) on a blog?
:: :: ::
In other news, I start school tomorrow for CELTA training (whose web site is mysteriously down right now ... this does not bode well).
Just what *is* a 44-year old man doing starting school to get certified to have a part-time career? I'd have second thoughts, but the money's been paid and I'm in for the ride.
I'm both eager and anxious for the whole thing to begin. I'm told it will be a very intense four weeks and to not plan on getting anything else done for the duration.
How hard can it be?
Watch this space ...
April 14, 2007
Modifying the Plan
I fished the key to the garden gate out of the drawer. I was just getting ready to go into the square, plop myself down in one of the wooden chairs, and make some flash cards of phonetic symbols and verb tenses. A simple Saturday soaking up some sun and studying for Monday's teacher training.
I stepped out on to the balcony for a quick test of the air ... to wear a sweater jumper or not was the most taxing question of the day.
And then I saw it. The mommy brigade. Three moms (or maybe nannies), 8 kids and 3 strollers. Surely they're all out for a walk and not heading into my peaceful, quiet square. I'd looked out there just 15 minutes ago and all I saw was one kindly old woman reading a book. It could have been so perfect.
There are now 2 sets of picnic blankets. Three groups of toddlers are running about playing tag and trying to steal each other's toys. Not ten minutes into playtime and I can already hear squeals and tears and scoldings from across the street.
The octogenarian bookworm has sought refuge elsewhere. It's too loud even with her hearing aid turned off.
Oh well. I guess all is not lost. I wonder where all the dads are?
Maybe playing footie in Hyde Park with their shirts off. Not the studying in my original plan, but teachers must be flexible, right?
April 13, 2007
Battlestar Neurotica
(from my journal, scribbled yesterday afternoon)
Things to do while waiting for yonder doctor (the one with the scythe and the hooded robe) to call you into his office …
Think of all the Internet research you've done since last month's consult.

Focus on recurring words in said research: injectable medication, side effects, needle biopsies, pain, failure, death.

Squirm a little with that month-long queasy feeling I've had about the whole thing.

Wonder what's wrong with everyone else in the waiting room.

Think they're all in a club that I never asked to be a member of.

Notice that the guy two over in the blue t-shirt is kind of cute and wonder if he's scared too.

Remind self that "knowledge is power" and try to reframe impending death sentence into a 'call to living!"

Roll eyes for getting all Louise Hay on myself.

Wish I was back in Africa totally ignoring/forgetting all this real world stuff.

Remember Never Let Me Go and realize we're all fated to the same thing, one way or another, and think I'm not ready to be a donor yet.

Say hello again to the queasiness.

Become annoyed that that my appointment was 20 minutes ago and I'm still here in this ugly, fluorescent-lit waiting room writing this list. He's always running late.
And then he called me in and I had to stop scribbling.

So the good news is that I don't have Hepatitis C. That's what I was really freaked about. As much as I admire Pamela Anderson, Anita Roddick and my dear friend TL, I really didn't want to play that game.
My ALT went down from 143 to 104 in a month, so things are going in the right direction. Normal is <40. He asked again if there was anything I've changed or taken in the last year that could have caused the spike. Honestly, there's nothing really. I went off all my meds a couple years ago when I moved here to give the old liver a rest.
You'd have thought it'd have acted up before I left New York, what with all the prescription and, ahem, occasional recreational chemicals I was taking. My internist and psychopharmacologist back in the states were very Rx happy and I had good prescription plan.
Lesson learned — stop taking all your meds and your liver gets unhappy, albeit a year later. Doesn't make sense, but that's why they call it practicing medicine.
I did go on a new reflux pill about six months ago, so I'm off that now for something different. Maybe it's viral and it'll sort itself out, so I'm back on a variation of the old cocktail. We'll check it again in another month. The doc seems much less concerned and I have a heightened awareness of what it could or couldn't be, so I'm in a much better head.
So much better that I decided to treat myself to a movie on the way home from the doctor. Sunshine had been Time Out's film of the week a couple weeks ago, and I'd been wanting to see it. As I walked by the cinema, I noticed it was just starting so I went in on a whim. You know how they say it's good to be spontaneous? They lie. So did Time Out. It was just silly. A ridiculous mix of Alien and 2001, with an overwrought topsy-turvy ending that could have lasted 15 minutes less and nobody'd have noticed. Plus, they used a "save technique" that I'd just seen on Battlestar Galactica two days ago.
And to add insult to injury, you see Cillian Murphy's chest but not Chris Evans'. That. Is. Just. Wrong.
Anyway ....
I had an extra long, very good sleep last night. First one in about a week. The two days nights before were spent fretting on the sofa. Couldn't sleep at all. When I wasn't making myself crazy with web research on painful liver failure, I was watching the entire third season of Battlestar Neurotica Galactica in a vallium-induced semi-calm. [SPOILER AHEAD] The episode where everyone was dying and being quarantined was especially enjoyable, and then Laura's cancer comes back at the end, which made me really sad. [/SPOILER}
And the last ten minutes with the four of them in the 'all along the watchtower' room ... WTF??
Enjoy your weekend everyone and take care of yourselves ... you don't want to end up waiting in a doctor's office making lists. And if you're going to see sunshine, do it outdoors, not at your local cinema.

April 12, 2007
Here's the Scoop
Mark your diaries ...
April 11, 2007
Citigroup's Getting Smaller
Speculation about Citigroup's restructure is all over the interweb, based on Mr. Prince's Monday memo.
I have it on pretty good authority that 17,000 people will be laid off over the next few days with another 8,500 to go via attrition or job reassignment to less expensive areas (eg, get them out of NY or London).
Wouldn't it be ironic if, after his long-awaited promotion to MD ...
No. Let's not go there.
Actually, he's safe, so not to worry.
April 10, 2007
Tuesday 200 - #39
Dolores loved her bowling pin. It was a gift from the Ladies Scratch League when, after a decade as secretary, she had to resign. Her husband Arthur had been transferred.
After Tuacas and tears, she and her teammates, "The Lucky Strikes", huddled in the parking lot of Stardust Lanes. "Never goodbye," she told them, wiping away what was supposed to be waterproof mascara, "only so long. Promise you'll come visit Missouri."
Arthur split, but the pin remained. One Christmas she dressed it up like a wise man and put it under the tree. It soon became Cupid and then the Easter Bunny. Her kids made fun of her being so silly. After her stroke, they went out of their way to invent new costumes. Not much else made her smile.
One winter morning she found it wrapped in a ketchup-stained pillow case.
"What's that?" she mumbled, watching the kids pack lunches.
"Beware the Ides of March," said her Shakespeare-studying son. That afternoon, Dolores slipped in the tub and drowned.
"The Lucky Strikes" attended the funeral. Dolores looked resplendent, laid out in a faded blue bowling shirt, hugging her angel-winged bowling pin, on which they'd painted, "so long."

:: :: ::
Quit Hopping on My Head
The Easter Bunny kicked my ass. Hard.
We had Easter dinner a day late, because several of us were going to see Dame Edna at the RVT on Sunday. Everybody flaked and no one got to hear this year's pagan fertility rite jokes. Oh well.
So I popped two legs of lamb (not sure if they were from the same sheep, but they tasted pretty much the same) in the oven, crusted in garlic, thyme, rosemary, cumin seeds and some butter. My first time cooking lamb. So easy. That along with roasted potatoes and a charming melange of cauliflower and broccoli made for a perfectly lovely lunch. No ham and scalloped potatoes on this Easter table, no siree.
I was expecting 8-10 people, but several of the invitees flaked (pattern much?) and we were only 5. Cocktails before dinner. Wine with the meal and then more drinking. Three people showed up late and mayhem ensued. Did you know that a leather harness goes nicely with an African kikoi?
So the question remains ... how does a party of five (which then becomes a party of 8) go through 10 bottles of wine, 1.5 bottles of Sauza Hornitos, several bottles of Stella and a half-liter of vodka.
My head hurts.
April 7, 2007
Safari So Far Away
Did everyone have a good Friday?
Gosh, I've been back a week now and haven't blogged at all about the trip. That's cause it totally sucked and I don't want to relive any of its hellish memories by recounting it in words.
Not.
Actually, it was one of the most amazing adventures I've had, and every time I sit down to write about it I don't think I'll do it justice. Here's a shot of our picnic lunch, under a beautiful lion-scratched tree on the Kenya / Tanzania border.
*sigh* Yup, it was pretty much that beautiful all the time.
So while not writing about it, I've found other things to occupy my time, like:
Retrieving and rebuilding my MacBook — it was in iHospital with an irreparable hard drive while I was on safari (and then when I got it back the optical drive crashed ... grrr). Seems to be working now, and all hail the Apple Protection Plan.




Listening to a lot of Dixie Chicks, Mary Chapin Carpenter and Dolly Parton. Who knew going to Africa would put me in a country-western mood? What's that about?




Setting up once-PC formatted external hard drive on my Mac wi-fi network to act as a back-up drive to avoid losing things again. Once bitten, twice shy and all that. It's fun to get in touch with your inner IT geek.




Doing my pre-course work for CELTA training. Classes begin April 16 and my head is swimming with past progressives, participles and phonetic symbols.




Learning how to lay down vocal tracks (my, doesn't that sound all industry savvy?) in Garage Band so that my bit of Shaggy Blog Stories can be included in the podcast that Mike is putting together.




Getting the B&B back up and running. A fun (and cute) house guest arrived Thursday for a 5-day stay, and the room's full up now for the next couple weeks. Book early, book often.
And now, I must venture out for the last long run of the training season. The marathon (which very well may kill me) is in 15 days. That means 20 miles today. Ugh. We'll see how close to that I get. These are the worst parts of the marathons, the long training runs. The day itself is fine. You've got the energy of the crowd and the excitement of the day to pull you through 26.2 miles like magic. Days like this are just about slogging along and putting in the miles (and the hours).
And when I think just why am I doing this? we remember it's for a good cause. If you haven't done so yet, would you please be so kind as to sponsor me?
Happy pagan fertility rites to all!
April 3, 2007
Tuesday 200 - #38
You may have noticed I missed last week. I had the best intentions, but vacationitis got the best of me and thought it would be coarse to write "fuck all" 100 times.
But I was thinking about my little project, especially last Tuesday on the sandbar at sunset ...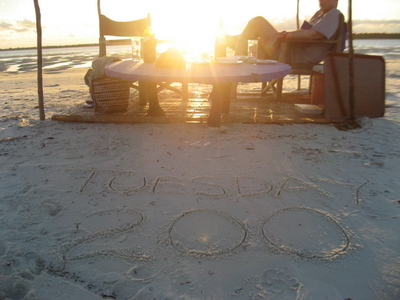 And so without further ado, we continue on with our tiny tales.
:: :: ::
"But Lulu," he said. "In God's eyes, we're all cousins."
"Could be, Verne, but in the law's eyes, cousins can't get married. Cute as you are, we can't keep fooling around. I'm turning over a new leaf," she said, flipping a page in her dog-eared Danielle Steele paperback.
Verne spit some Skoal juice into the can of Pabst he'd had for breakfast. He missed a bit and wiped the brown dribble off his chin. "Come on darlin', ain't like that broad's got proof."
"That broad is my mama," Lulu said. "And her proof is that birthmark on your ass, which I still have NO IDEA why you showed her."
Alma had squealed, "Sweet wounded Jesus, that's the same purple bowling pin on my brother's baby. LIttle Brunswick, we ain't seen you for 19 years, when your momma ran off with Hugo from the A&P. I gotta run tell Bubba," she said.
"Verne, you better get."
"Aww … Lulu, " he kicked at some dust. "You want one last go?"
"Are you friggin' kidding me?"
Verne grinned and shrugged his shoulders.
"Well, hurry up," Lulu said, tossing her book aside. "Mama'll be back with the whole trailer park in no time."
:: :: ::
April 2, 2007
A Walk in the Woods ... and Fields ... and Caves ...
One of the things we didn't get to do in Africa was to take a walking safari. The SD-6.5 extraction team came in and whisked us away before we could hike through the bush, accompanied by our Masai guide and an armed guard ... you know, to shoot Mr. Macomber if he got out of hand.
I wondered if the armed guard would have bullets or tranquilizer darts in his gun, but we never got the chance to find out.
Anyway, I ticked the walking tour box today. Eduardo and I both have a copy of Time Out's Country Walks Near London (vol 2). For several months we've been talking about going on one, and today was the day. Walking ten miles around West Wycombe beats writing African holiday adventures any day.
Who knew? You don't have to fly eight hours to see expansive fields and assorted wildlife. Today's sightings included deer (relatives of last week's impalas), hawks (not unlike hawks and vultures), dogs (related to hyenas and jackals — only much more jolly), horses (zebras without the stripes), and butterflies (pretty much the same in both places, to my untrained eye).
Saw plenty of Masai sheep last week, which looked more like goats, but who am I to quibble? Today we saw proper English sheep. One particular field was full of lambs as well. So adorable. As we walked up the field, we noticed one little black and white guy on the other side of the fence, bleating a little and trying to get back to his flock. We found his escape route, but, bless him, he couldn't quite figure out how to get back through.
Did you know that if the Masai call you a sheep, they're saying you're stupid?
We crossed the stile over to the lonely side of the fence — just me, Ed, and the baby bleater. I think we made him nervous, 'cause he tried running through any gap in the fence, only to realize he simply wouldn't fit. Eduardo (now dubbed Sir Sheep Saviour) picked him up and showed him the way home. He then started looking for his maa-aa-aam. We waited a bit to see if they connected, but apparently she wasn't fussed.
After saving the sheep, we went on to explore the Hell Fire Caves, which may or may not have been the site of 18th-century satanic debauchery, complete with wanton women and a monkey. We had the pleasure of hearing the recorded yet none-too-pompous voice of Sir Francis Dashwood, and got to watch a young blonde lad bound outside the tea shop exclaiming "I'm going to set the world record for sucking ... sweets."
We wished him all the luck in the world and know that his mother couldn't be more proud.
Then we were off to the Dashwood Mausoleum and the St Lawrence Church, home to one of my new favorite graveyards. One of the couples there were named Slaughter and Fryer. Isn't that gorgeous? I hope they were in the poultry business.
Two miles later and we're back at the Saunderton train station, ready to head home after our country stroll, and looking forward to the next one. Perhaps Hastings to Rye, or Dover to Deal.
A perfect spring day ... especially for the lamb.
Now then ... what to cook for Easter dinner?
April 1, 2007
Dystopia in Utopia
So in between all the wildlife safaris, rhino hunting, Alias-like emergency extractions, and lounging in the pool, I read a book last week. It was not the most cheery novel I've ever plowed through, but it was as disturbing as it was compelling.
Kazuo Ishiguro's Never Let Me Go. I really recommend it, especially if you have no idea what it's about. Just go on and:
a) pick it up
b) read it without reading anything about it
c) endure the narrator's somewhat annoying tendency to ramble back and forth between her present and her memory which sort of gets in the way of a smooth narrative drive (but hey, it's how we all tell stories in real life)
d) let me know what you think
I don't want to talk about it too much, because I want you to read it without knowing anything about it.
But I do have a few things to say ... (so come back if you plan on reading it and don't want any potential spoilers)
I don't know why the book bothered me so much. Maybe it's the thought of knowing you live to be operated on. That you don't have much free choice and so you just have to make the best of it and accept your fate.
I also was moved by the idea that what you draw and write and create is a window into your soul ... what makes you human.
I'm sure the not knowing about my liver results test has something to do with it, as well as the fear of having to have a biopsy. I know it's a fairly unfounded fear, but you just never know. And ultimately, like Kathy and Ruth (that evil little bitch) and Tom, you suck it up and do what you need to. I think I related most to Tom, who got overwhelmed because he didn't quite fit in (or maybe he knew the futility of it all) and found that raging against it all was the only way to cope.
We're all ending up donors at one level or another, right? And do we all have a responsibility to be carers, if not at least to ourselves, then to those we're brought up with?
Remember that pit I had in my stomach before I left? Reading this novel gave me that same queasy feeling. I didn't care for many of the characters, but I found the story to be haunting and potentially all-too-real on several levels.
Ah, dystopia. Perhaps not the best of beach reading, but a truly memorable book. One I haven't quite shaken off yet.
I'm going through pictures and notes and should have some stories from the trip over the next couple days. It really was a brilliant adventure.